Closets
Let Clearly Organized design the perfect closet to accommodate everything you own. A closet with adequate space and proper design can have significant benefits:
• The ability to see everything you have makes the first job of the day (getting dressed) easier and faster.
• Putting together an outfit is a breeze when you know what you have and actually know where things are.
• Adequate space means clothes hang properly, allowing them to "breathe" after wearing.
• With enough space, garments also have enough room to shed wrinkles as they hang.
• Shoes stay nicer and are not scratched and nicked thrown on top of each other on the floor.
• Cleaning is easier: with everything off the floor, a quick once over with the vacuum cleaner is all you need to keep the dust down.
Clearly Organized designs and builds custom closets to accommodate all your belongings and keep them visible and organized. We offer extras such as drawers, valet hooks, tilt-out hampers, and more. You can choose materials ranging from plain white to textured Italian finishes.
Call Toni at (415) 444-5596 to schedule a site visit. She will measure your space, design a closet based on your needs and wishes, and give you a quote.
Custom Built Closets designed by Clearly Organized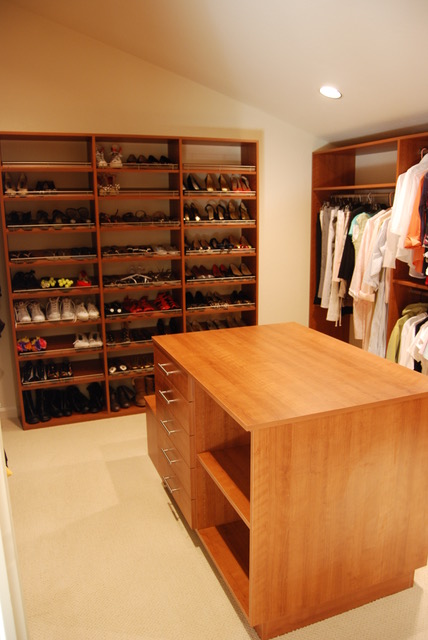 San Rafael Master Walk-in Closet Custom Design
This San Rafael closet was part of a remodeling project and one of several we did for the homeowners. A serene custom closet in a new Italian Melamine finish. All shelving and hanging rods are adjustable. Drawers are 100% extension. The finish was picked to coordinate with the paint color and carpeting. They were thrilled with the result and they will enjoy their closet for years to come.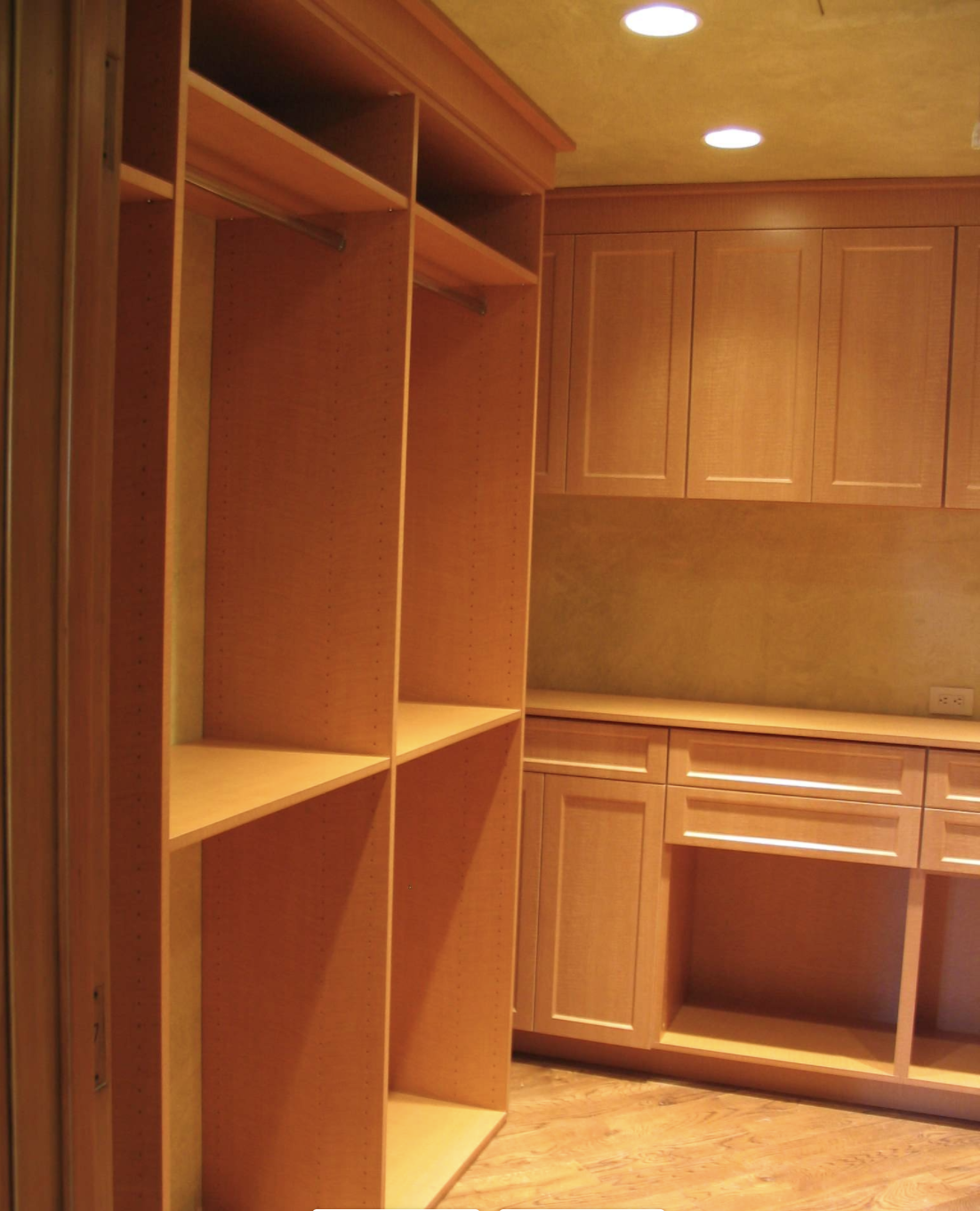 Napa Walk-In Closet
Every time we walk into our closet, we think of you and thank our lucky stars that you helped us create an organized way of life in our closet! 

All the best, 
Chuck & Nora Koslosky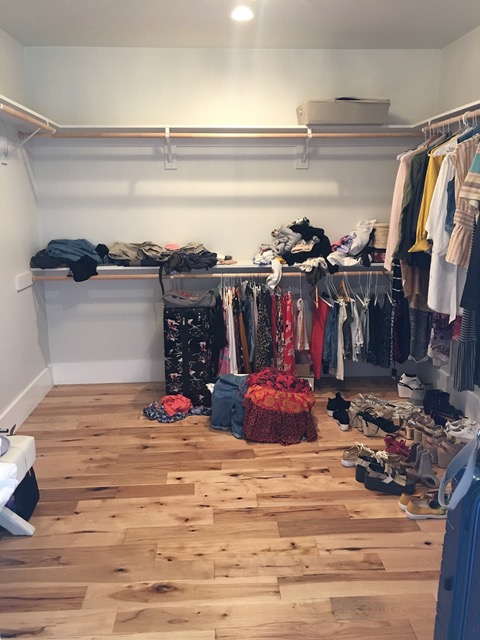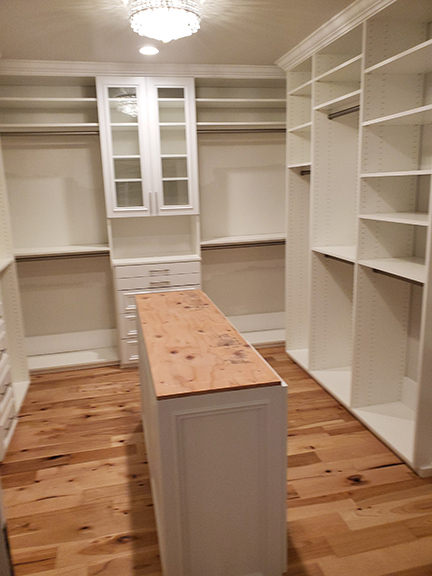 Napa Custom Closet with an Island – Before and After
A beautiful new closet in Napa, designed by Toni to client's exact wishes. Glass-paneled cabinet doors will show off client's purses and make them easy to find. The island will have a piece of granite installed to match the countertop in adjacent bathroom. Happy customer!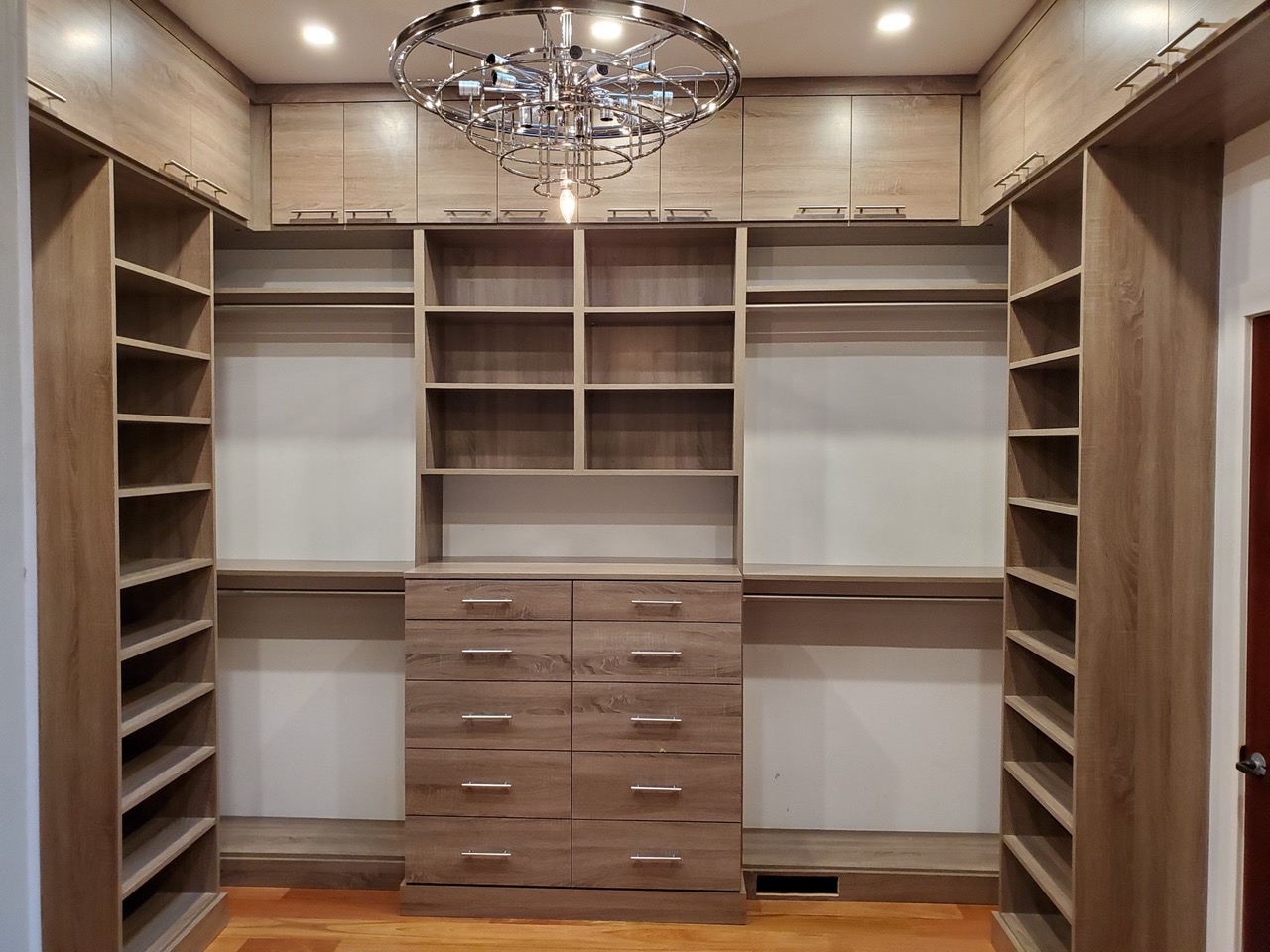 Top of the Line Closets
From plain Vanilla to Chucky Rocky Road Peanut Butter Chocolate Swirl—pick your ideal closet.
Clearly Organized can help you make your space white, utilitarian and practical to over-the-top beautiful in a high end finish. Your choice!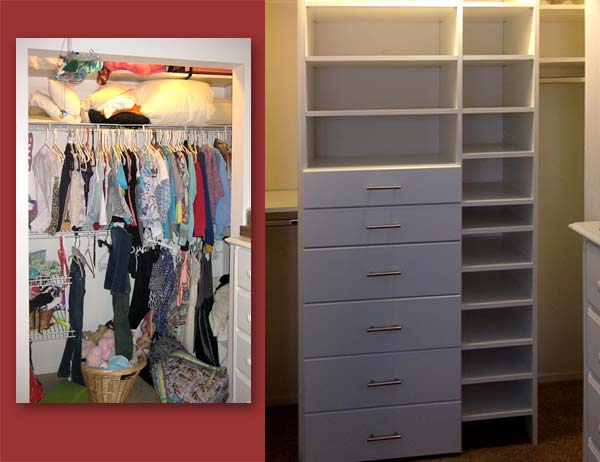 Sonoma Closet Design – Before and After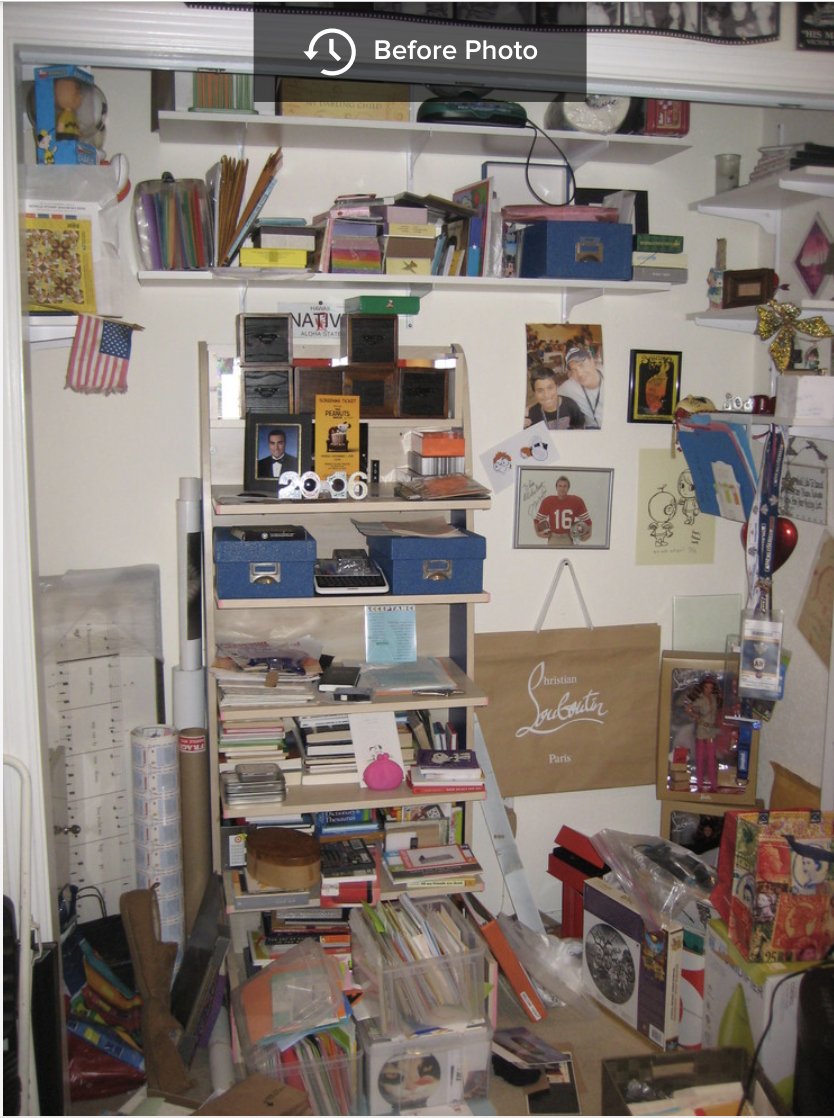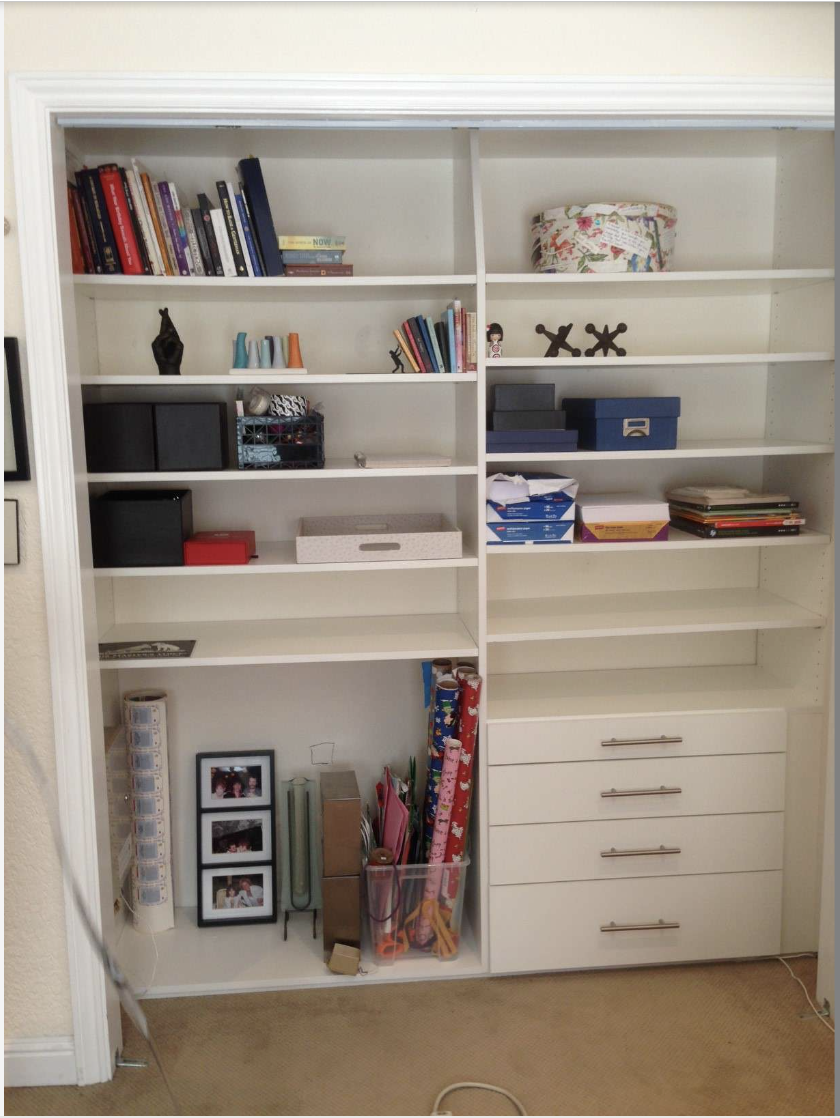 Dream Crafting Closet – Before and After
"I hired Toni to design and build my master closet. She came up with a clever design to use all the space available. Her contractor and his crew were great, installed the closet quickly and left the space pristine. It was a completely painless process and made a wonderful addition to my home. It makes a huge difference having a closet that works! I am now going to have her design a second bedroom closet because the first one worked so well. She is also fun to work with!" – Sue Zee P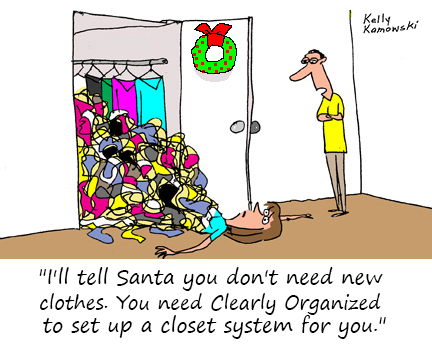 Clearly Organized

serves Marin, Sonoma, Napa, and San Francisco.
Call Toni today
(415) 444-5596 Office
---